Matthews Named as Next CVEA CEO
FOR IMMEDIATE RELEASE
June 29, 2023
Copper Valley Electric Association Names Next Chief Executive Officer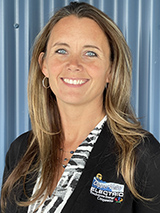 Glennallen, AK - Following focused deliberation, CVEA's Board of Directors named Jaime Matthews as the organization's next Chief Executive Officer (CEO). She succeeds Travis Million, who will step down as CEO effective August 31, 2023.
According to President Lon Rake, "Jaime has been a tremendous asset to the cooperative throughout her tenure; she has impressed the Board of Directors with her financial expertise, desire to build a strategic financial forecast and capital work plan, and to streamline processes that help internal staff and ultimately provide efficiencies for the members. Her accomplishments are many; to include graduation from the National Rural Electric Cooperative Association (NRECA) Management Internship Program in 2013 and being awarded the Alaska Power Association (APA) Hatcher-Williams-Turkington Employee Award in 2022, which recognizes employees of APA's member utilities who provide exemplary service to their employer and community. The Board is confident in Jaime's leadership and looks forward to what she will accomplish for the members of CVEA."
Jaime came to CVEA as the Manager of Administration and Finance in 2006. She currently holds the position of Chief Financial Officer and is responsible for the accounting, customer service, administration, financials, and risk management functions of the organization. During her time with the co-op, Jaime has completed many significant projects; a few that stand out are the implementation of SmartHub, completion of a long-term Capital Work Plan, and most recently securing the cooperative fiscally for the next five years with the approved 2023 rate study.
As a lifelong Alaskan, Jaime started her electric industry career as a high school student under a volunteer work program entering meter reads for Cordova Electric. She went on to receive a bachelor's degree in business administration (Finance) and a master's degree in business administration (MBA) from the University of Alaska Fairbanks (UAF). In 2000, she began working for Homer Electric Association (HEA) as a Planning and Project Management Coordinator and was later promoted to Budget Analyst.
Jaime is now a leader in her field, with over 20 years in the electric industry. She has gained the respect of every member of the employee team, Board of Directors, community members, and industry colleagues. Jaime served for Governor Dunleavy on the Real Estate Commission of Alaska from 2019 – 2023, on the Copper River School District Board from 2015 – 2021, serving as Chairperson for four years, and volunteered for the Copper River Hockey Club, helping to provide students with competitive athletic opportunities for 13 years. Jaime also helped create the APA Accounting and Finance Conference, now in its 13th year, which serves to educate both new and experienced accounting employees throughout Alaska.
Originally from Cordova, Alaska holds a special place in Jaime's heart, specifically the Copper River Region where she raised her daughter Cassidy and son William, who both now reside in Montana and commercial fish with their family business in Alaska. She recently became a grandmother. She enjoys spending time with her new grandson, Clayton, and being surrounded by the support of her family and friends, specifically her husband Mel, of 24 years. Together they enjoy hunting, fishing, ice fishing, and traveling.
According to Jaime, "long-term planning has been a focus of CVEA the past few years. We have a strong Board, clear strategic goals and a dynamic group of employees that work hard for our members. I look forward to leading the team and continuing to keep the cooperative on this positive, successful trajectory."