Co-op Cares Community Support Program
CVEA recently created a support program to assist our communities with the negative impacts of COVID-19, and to remind CVEA members that we are in this together. The program consists of several components:
CVEA sent $100 grocery gift cards to members immediately faced with negative financial impacts due to COVID-19
CVEA has been providing meals to essential workers to thank them for continuing to work hard and keep our communities going throughout the pandemic
CVEA is supporting local restaurants by purchasing multiple meals weekly for essential workers
The Co-op is working on a program to provide incremental funding to local nonprofit organizations who have increased support to those needing extra care as a result of the COVID-19 crisis
CVEA is issuing a $25 Community Cares Gift Certificate to every CVEA residential member; providing a small amount of support for members and local businesses (see below for participating businesses)
The Co-op developed a summer activity program, with financial rewards, for kids age 2-18, to support their physical, social, and mental well-being (program details highlighted below) *Please only include activities from June 4 through August 8
Community Cares Gift Certificate
On Thursday, June 4, CVEA mailed all residential members a $25 gift certificate that can be used at local businesses, within CVEA's service territory, that provide goods and services.
**Don't throw it away when you find it in your mail. Please refer to the information provided inside for details**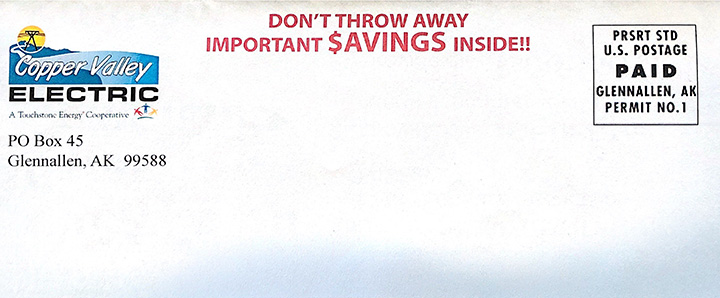 See below for a complete list of participating businesses. Please note - this list changes with new businesses joining daily. We recommend you check back prior to doing your shopping.
**All businesses are encouraged to participate; if you don't see them on the list, they may still accept your certificate, it is recommended you contact them in advance. **If you are a business and wish to participate, it's easy, just email malone@cvea.org for details.
COPPER BASIN DISTRICT
Basin Liquor Bush Bottle Bin Caribou Hotel Casa De La Arte Chevron
Chugach Mountain Ventures Chugach Outfitters CND Metal Works
Copper Basin Sanitation Copper Rail Depot Copper River Auto Parts-NAPA
Copper Valley Air Copper Valley Telecom Copper Valley Chamber of Commerce
CRNA Cross Road Health Ministries Crowley Petroleum CVEA Ernesto's Grill
Eureka Lodge Fisher's Fuel Inc Gakona Lodge Glenn Storage
Glenn Transport Glennallen Chiropractic Center Glennallen Family Dentistry
Glennallen Hardware & Lumber Glennallen Rustic Resort
Glennallen Towing and Recovery Glennallen Water Works Golden Spruce
Grandview Grizzly Pizza Gulkana Fuel IGA Images Hair and Tanning
KCAM Kendra's Kreations Mountain View Grocery Gas & Liquor Nelchina Lodge
New-To-You Thrift Store Old Town Copper Center Inn and Restaurant Salmon Grove
Sammie's Garden Spot Sheep Mountain Lodge Sparks General Store
Sunrise Café Tazlina River Trading Post The Caribou Grill The Hub
Tolsona Wilderness Campground Tonsina Lodge Trailside Espresso
Trappers Den Tavern Inc
VALDEZ DISTRICT
Acres Kwik Trip Alaskan Auto Inc. (NAPA) Anadyr Adventures Alaska Halibut House
Arctic Chiropractic & Massage Arts Design Aunti Yum Yums Bahama Hawks
Bayside RV BPOE Elks Lodge City of Valdez Creative Connections
Copper Valley Telecom Crowley CVEA Eagle's Rest RV Park Easy Freeze
Fat Mermaid Fish Central Food Cache Foothills Dentistry Fu Kung
Captain Joes Glacier Automotive Growler Bay Brewing Haltness Equipment
Mark's Repair Harris Sand & Gravel HD Marine Herbal Outfitters
J&R Plumbing KCHU KVAK Klondike Coffee Mountain Sky Hotel & Restaurant
No Name Pizza Latte Dah Espresso LuLu Belle Magpies Mike's Palace
Nat Shack Northern Treats Old Town Diner Orca Bay Trading Post
Pangaea Adventures Paul Silveira - Dentist Peter Pan Seafoods
Prospector Outfitters Puddle Jumpers Saloon Radiant Wellness Massage
Radio Shack Rogue's Garden Sacred Grounds Safeway Salon Eclipse
Second Time Around South Central Hardware Stampmill Stan Stephens Cruises
Stepping Stones Learning Center Subway Swierk Enterprises Tanerliq Ventures
The Alfa Doc The Painted Moose The Roadside Potato
The Wheelhouse Totem Inn Trada's Breakfast Diner Valdez Animal Shelter
Valdez Art Co-op Valdez Brewing Valdez Kennels Valdez Medical Clinic
Valdez Museum & Hist. Archive Valdez Office Supply Valdez Senior Center
Valdez Veterinary Services VCVB Vertical Solutions
CVEA Cares For Kids Summer Program
CVEA has created a summer activity program for kids, ages 2-18, to combat the negative affects of COVID-19 and support their physical, social, and mental well-being. Additionally, kids can earn a $10 gift certificate to a select local business and be entered to win $500 just for having fun!!
Details below, click on the flyer to enlarge.
Please only include images of activities between June 4 (the program start date) and August 8. Dates should be noted in the email.
Call the CVEA office at 822-3211 or 835-4301, or email scheidt@cvea.org with questions.