2021 Annual Meeting Information

It's Director election and Bylaws amendment time!
Ballots will be mailed by Thursday, April 1, and are due back in the correct mailbox by 5 p.m., Tuesday, April 27. Don't forget to sign the back of the ballot envelope. Every on-time, valid ballot will be entered to win a $50 CVEA energy credit! Check out the Ruralite Meet the Candidates article and recommended Bylaws amendment information. You'll find a summary and detailed, red-line version of changes.
Advanced Registration is Required for the 2021 Virtual Annual Meeting
The 2021 Annual Meeting will be like no other. Join us on ZOOM, May 4 for Valdez, and May 5 for the Copper Basin. Registration will be a little different this year. Members are required to register in advance, by 12 p.m. on the day of the meeting in your District.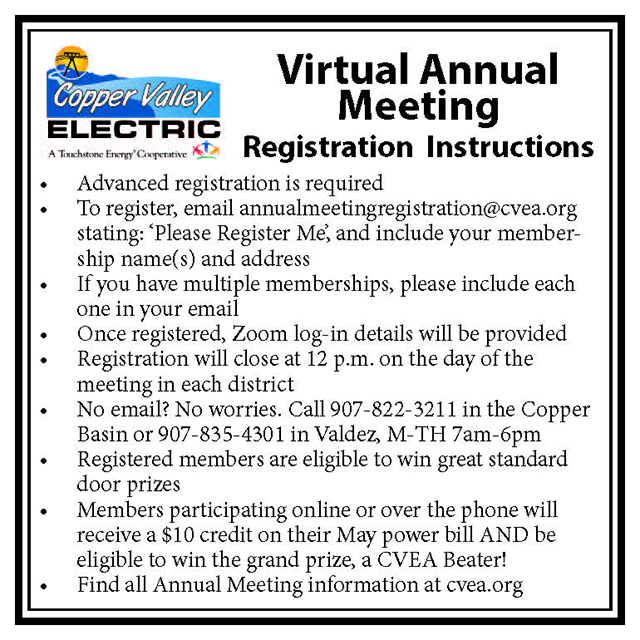 Beginning April 1, send an email to this link to register: annualmeetingregistration@cvea.org. Don't forget to state, "Please Register Me", and include each membership and address you would like registered. Once registered, the Zoom meeting login instructions will be provided to you.
Annual Meeting Highlights
The purpose of the meeting will be to hear reports, learn about CVEA projects and issues, ask questions about your cooperative, accept director election and Bylaws amendment results, scholarship awards and employee service recognition, and to transact any other business that may come before the Membership.
In addition to learning valuable information, every registered membership will be eligible to win a ton of cool door prizes. Members attending the meeting online will receive a $10 credit on their power bill in May and will be eligible to win the grand prize, a CVEA Beater!!
Grand Prize - Copper Basin F150 4x4 Beater Grand Prize - Valdez F150 Beater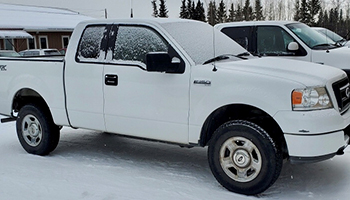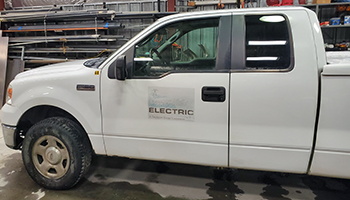 Approval of 2019 and 2020 Annual Meeting Minutes
CVEA will be seeking approval of the 2019 and 2020 Annual Meeting minutes at the upcoming Virtual Annual Meeting. We are including copies here for your review prior to the meeting. If you have any questions, please contact Sharon Scheidt at sscheidt@cvea.org.
2019 Copper Basin Minutes 2020 Copper Basin Minutes
2019 Valdez Minutes 2020 Valdez Minutes
Check back for future updates!